SPECIAL EDITION
Thursday, September 3, 2020
RESUMPTION OF PUBLIC MASS
The Church of the Little Flower has reopened for Sunday and weekday Masses.
Sunday Mass Schedule: 7:30 am, 9 am, 10:30 am and 12 Noon
Saturday Vigil: 5 pm
Weekdays (Monday-Friday): 8:15 am and 12 Noon
The seriousness of this pandemic, however, dictates that we follow strict guidelines and important safety measures. Please carefully read the guidelines HERE.
Occupancy restrictions are set for a maximum 30 percent of capacity with social distancing.
Masks are required to be worn at all times when in church.
Please arrive early as seating is first come, first served.
Due to the additional disinfection procedures, the church will now close by 2:30 pm on Monday - Friday. It will still open just before the 8:15 Mass.
SECOND COLLECTION THIS WEEKEND
THE CATHOLIC UNIVERSITY OF AMERICA
Every year, The Catholic University of America relies on the generosity of parishioners across the United States. This collection supports Catholic education at the university and students from this archdiocese who attend there, advancement of research that will serve parishes and dioceses throughout the country, service missions, and initiatives and training programs.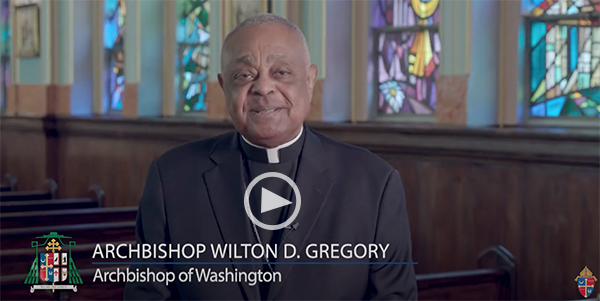 PASTORAL REFLECTION
Twenty-third Sunday in Ordinary Time
Sister Madonna Marie, IHM
The readings for today highlight our relationship, not only with one another, but our relationship with God. Early in man's life on earth when God asked Cain where Abel was Cain replied, "I do not know. Am I my brother's keeper?" How much easier it would have been if God simply said, "YES, you are your brother's keeper. Now love him and care for him always."
Ezekiel is more straight-forward when he tells us that we are responsible for the death of the wicked, unless we have attempted to guide him to change his evil ways. St. Paul takes it another step by saying that "Love is the fulfillment of the law." We must love one another - brother, sister, neighbor - we are all one family of God.
In today's world, loving one another almost seems out of touch. The violence, the turmoil, and the displaced anger in our cities silence and frighten us into minding our own business. "If your brother sins against you…" Are we still responsible for his behavior? Must we still love him? In today's Gospel, we are reminded that "If two of you agree on earth about anything for which they are to pray, it shall be granted to them by My heavenly Father." Now is the time for us to pray. Now is the time to bring prayer back into our hearts, into our lives, and into our families. Now is the time to pray for peace in our world, among men and women, between us and our brothers and sisters. Remember the loving and caring response of the boy arriving at Boys Town with his brother on his back, "He ain't heavy…he's my brother." That is the love God desires for each and every one of us.
REOPENING OF LITTLE FLOWER SCHOOL
Little Flower School is open and welcoming back our Cardinals in person! Teachers and staff have worked tirelessly to create a safe and welcoming environment for our students. It is wonderful to see the smiling faces of our students even though they are covered with masks. This is a great start to a unique year.
2020-21 RELIGIOUS EDUCATION
Book Distribution this Sunday, Sept 6
For those who have registered, companion workbooks will be available for pickup this Sunday, September 6 from 9:30 - 10:30 am under the tent on the school blacktop. If you are unable to make it this Sunday, please contact Inga Barry at ibarry@lfparish.org to make alternate arrangements.
Spaces still available
We are planning to open virtually for the first semester on Sunday, September 13th for primary grades and on Wednesday, September 16th for middle school grades. If you have not already done so, please register today. Thank you.
IT'S NOT TOO LATE TO GIVE TO THE 2020 ANNUAL APPEAL
I thank our parishioners who have donated to the 2020 Annual Appeal. Little Flower Parish currently stands at 51.6% of our 2020 goal of $501,000.
The Annual Appeal amplifies the impact our parish can make for people in need especially during this pandemic across Washington, DC and Maryland including:
Chaplains heroically serving the sick and dying in hospitals

Catholic Charities providing food and other assistance to thousands

St. Ann's Center for Children, Youth and Families continuing to offer temporary housing, counseling and child-care services to single mothers
These needs, and many others benefited by the Annual Appeal, depend on our financial support.
If you have not yet made your gift to the 2020 Annual Appeal, it is not too late. Visit appeal.adw.org to make your gift today. I thank you again for your support of the Annual Appeal.
Gratefully,
Msgr. Peter J. Vaghi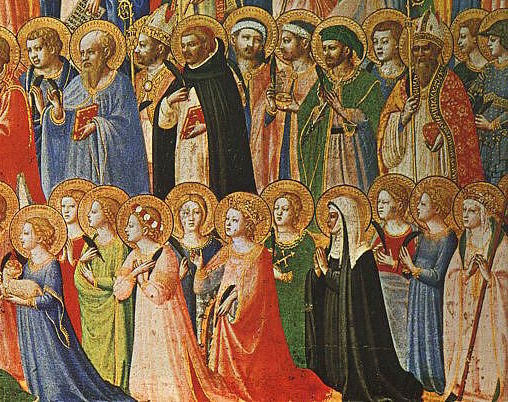 STEWARDSHIP CORNER
Poor Box Donations – Through the end of 2020, Little Flower will be donating parishioner Poor Box contributions to Catholic student centers at three local universities. The centers' critical missions are to serve the spiritual needs of Catholic students in secular academic and living environments, most of whom are away from their Catholic families and parishes where they had spiritual support. Contributions during September and October will go to Howard University Catholic Center, where Fr. Robert Boxie serves as chaplain. Fr. Boxie formerly lived and served at Little Flower. For more information, please visit huccm.com.
Saints as Model Stewards – May the saints whom we commemorate next week inspire us to employ our own God-given talents and opportunities as He would have us do.
Wednesday - St. Peter Claver (d. 1654), the Spanish Jesuit who went to Colombia where for 40 years he ministered to the medical and spiritual needs of slaves, baptizing over 300,000 of them. Inspired by St. Peter Claver's life, may we too heed Christ's words: Whatever you do for the least of my brethren, you do for Me. (Mt 25:40)
May the goodness of the Lord be upon us and give success to the work of our hands.
(Psalm 90:17)
On the eve of Labor Day, this psalmist helps us put in perspective our labors. Lord, by doing the work you have entrusted to us, may we sustain our life on earth and build up your kingdom in faith.
As Christian stewards of the time and talent that God has given us, we should, as St. Terese of Lisieux and Blessed Jose Maria de Escriva taught, sanctify our work – even ordinary chores. Ideally, we should remind ourselves throughout the day of the ultimate purpose of our labors. In practice however we get so caught up in the nitty-gritty of everyday living that we don't do so. With this realization, why not start each day – perhaps as your feet touch the floor – with the following dedication:
Lord Jesus, I offer you all my prayers, works and sufferings of this day.
OFFERTORY
We appreciate your continued financial support at this time.
Our preferred method of giving is through our online provider, Faith Direct. The secure enrollment process is simple and takes less than 3 minutes to complete. Please consider enrolling in Faith Direct or increasing your level of giving. You may also make a safe and secure one-time gift online.
If you prefer not to enroll online, please know that we are most grateful for your continued support and we appreciate the efforts many of you are making to mail or drop off your weekly envelope. God bless and many thanks.